You need to create a listing on Apple Maps if you are a B2C business venture. In simple words, you should add your business to Apple Maps, for which you need to create an Apple ID. But why do you need to do this? So, understand the advantages of adding your business to Apple Maps. No matter you are a small or large business owner, Apple Maps listings will be beneficial for you. With the help of Apple Maps, you can share your business information with the target audience. Information can include name, address, menu (if any), opening hours, and so on. By this, your customers can share their pictures with tags, which will automatically boost your brand awareness.
Eventually, when you add your business on Apple Maps, your visitors will review your brand services, which will help other customers in demonstrating your product and services quality. In addition, customer reviews will help you improve your products and services. Ultimately, you can attract more customers and increase brand awareness. Besides this, Apple Maps is a default navigation App found in Apple iPhone and iPad. And listing on Apple Maps will help users find your business location easily and quickly.
Customers can make a list of their favourite places they visit and share it with friends; it is also a kind of marketing that helps businesses increase brand awareness and attract more customers.
But how to create a listing on Apple Maps?
Obviously, you can do it yourself. Here are some steps to create a listing on Apple Maps through your phone.
Steps to create listing on Apple Maps
Register Your Business On Apple Maps Here: https://register.apple.com/placesonmaps/
1. Create an Apple Id (in a case you don't have one)
*Apple Id and privacy, click on the continue button. Accept terms and conditions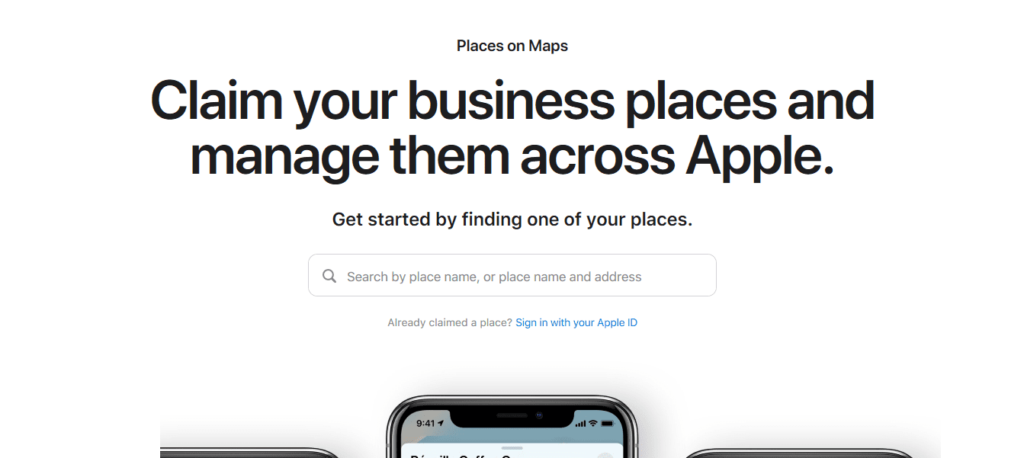 *Click on add missing place
Select language
Type business name
Contact number
Website
Type business primary category
However, you can add two more categories
Search business address or add business address manually
*Review your place details and verify ownership
Insert the legal name of the business
Enter phone number
Add website
Type D-U-N-S number (free 9 digital number provided by DNB company to local vendors) however, it is optional
Insert head office address
*Add primary contact for your business
Name
Email id
Phone number
Type your relationship with the business (e.g. owner, manager, assistant, partner or employee)
*Verify that you own this place
Through this process, you can add your business to Apple Maps and can make a high-quality citation. With this strategy, you can gather traffic from iPhone and MacBook.
Optimize your Apple Maps business listing
Apple is a well-known brand globally for its high-quality costly technology products. However, people use the Google optimization method to be on the front page of Google through SERP. Google has been the central focus of digital marketing for years, but several platforms are now also considered for online marketing. As a result, organizations also need to use different platforms for their business promotion.
Apple Maps is now the central focus of any marketers to promote their business online. This theory has a secret, and the secret is approx. 20million users search on Apple Maps to find a location. Around 230 million users use Apple iPhone, 20 million use MacBook, and 70 million use iPads. So, to attract this expensive audience, what will you do? You must have an excellent Apple Maps ranking to attract iOS device users. And of course, adding your business on Apple Maps is not enough; you must optimize your listing on Apple Maps.
Some ways to optimize your Apple Maps listing
Adopt a multidisciplinary method to rank your business
After registering your business on Apple Maps, you have to optimize your business. But first, sign in to Apple Maps with your original Apple ID and password. Apple Maps optimization needs a multifaceted tactic as the application itself does not gather information. Your business should be dominantly visible in various online places when you want to rank high on Apple Maps. Besides this, you create an additional Yelp profile. It is the first resource of the domestic companies' information that Siri Users gets through Apple Maps.
Update business information regularly.
The company (Apple) is highly objective to the most prominent and accurate local search outcomes through GPS-guided navigation or its mobile voice search technology. This strategy doesn't work when a business is inaccurately listed on Apple Maps; this strategy doesn't work. In addition, for the best Apple Maps SEO outcomes, accuracy should be in consideration as a crucial white hat technique. Siri users are mainly those that want immediate results.
So, when the application directs them to your specific location, they expect the right way to find you. But in case you changed your business location and did not update it on the application. Then you will disappoint your visitors or customers that probably will not be well for business. So, you must ensure you are up to date with your location history and other details about your company. If you want to change any information regarding business, you must keep in mind to update it on Yelp.
Furthermore, check if the information provided on Yelp is as same you provided on other online channels. By which you will be able to increase the Apple Maps ranking of your organization. Most importantly, list your business according to the local language. For example, name your business as Dutt Family Restaurant instead of Dutt Family Outlet. All these directories will supply Apple Maps with crucial metadata. It increases the Siri service users' domestic voice search experience. Moreover, clashing business information can hit your business marketing and Apple Maps SEO hard.
Collect positive Yelp Reviews
A web-based business directory is directly proportional to the Yelp reviews. For instance, the more positive your reviews, the higher your ranking. Simply, Apple Maps ranking act according to your consumer ratings. The consumer feedback factor is very big in search results ranking as users go for the best alternatives available. Generally, people that visit Yelp make a purchase based on customer reviews. This is why customer review has a crucial place in Apple Maps' business listing ranking.
So, if you want to attract customers, keep in mind how you can satisfy them with your services. People react to services as they feel about it; if they like, they like, if they don't, then don't. And new customers always check reviews before selecting any brand to make a purchase. Moreover, how much you can satisfy your customers, depends on you. So, you must be careful while serving people and ensure you are at your best.
Summary
Now you understand how to create a listing on Apple Maps, and you can optimize your listings. However, you might lose your customers with inappropriate marketing strategies.
You should choose a digital marketing agency to put your business ahead of your competitors. It is obvious that many competitors surround you in the market. But you have to create your own identity. In such a case, you need expert assistance to adapt to every situation you face. To survive in the competitive market segment, you will require a Digital Marketing Agency.
When you effectively optimize your Apple Maps business listing, you can attain high success and become sustainable in the market. Moreover, it will also uplift the growth of your business. If you want to collect extra information about how to create and optimize listing on Apple Maps, you can contact the experts of the SkySeoTech team.
Solve your queries associated with Digital Marketing Strategies by taking suggestions from the SkySeoTech team. Our market experts will help you resolve all your problems. Kindly contact us on the websites given below.