Of course, you are here because you want to add your website to the Google search console and learn the process. But first, understand what Google search console is and why it is essential. Google search console is a report in analytics that gives data regarding a website's organic search traffic. It is a free service that Google offers to assist online marketers in a different manner. By using this, a website owner can maintain, control, manage, and troubleshoot their website presence in SERPs. In addition, it also helps website owners to fix issues and ensure their website is on the top. Besides this, individuals can use this to ensure adjustments and maintenance of their website.
Furthermore, the Google search console can help view how Google indexes URLs and websites. However, people are generally confused between Google search console and Google analytics. But these are different terms. For instance, Google analytics displays how viewers see your site, while Google search console displays how Google sees your website. But according to SEO, the Google search console is a technical tool that helps site owners to view absolute information regarding website ranking, keywords, schema enhancements, impressions, and indexing.
Before adding your website to the Google search console, you need to view its analytics. Also, it will ask for verification of your website ownership. Most importantly, the primary purpose of the Google search console is to prove that you are the owner of your website. Therefore, you have to go through the verification process prior to maintaining your website via Google technical approaches.
Moreover, this process is too simple to perform, and through numerous techniques, you can verify your website. This article will help you add and verify your website to the Google search console easily.
How to add the website to the Google search console
In the Google search console, you can add two types of properties. If you are a new user, then you will get the add properties option on the first window.
So, go to the top left corner and click on add property.
A pop-up window will appear in which you see Domain and URL prefixes.
In the domain method, you can add only example.com.
In URLs prefix, you can add http://example.com, https://example.com, http://www.example.com, and https://www.example.com. So, you can see the URLs prefix method provides you with many alternatives in comparison to the Domain prefix. With the URLs prefix method, you can access the HTML file, HTML tag, Google, Analytics, Google tag manager, and Domain name provided. But in the Domain prefix, you can only verify naked Domain.
However, after verification, you will access all options available in the URLs prefix method. But in terms of verification, it only offers you one alternative: the Domain prefix. Due to the different hosting processes and menus, this process looks complex, but it is not. So, to help marketers, Google itself provides an option for site verification. In this way, Google self-login into your hosting account and will verify your account and domain name. In this article, we will tell you some methods by which you can verify your account.
Benefits of Google search console for website owners and Google
Website owners
Provide sitemap
Generate and check robots.txt
Get traffic and link details
Provide ownership
Schema and rich snippet issues
Google
Notify about hacked website
Send monthly newsletter
Notify about penalties
Verify website to Google Search Console
Google and you get a protected channel for receiving and transferring data when you verify your site. In addition, it will authorize you to perform different works like page indexing, site testing, and submitting a sitemap. Besides this, if you are willing to execute digital marketing like SMM, SEO, etc., you can use Google webmaster tools. But primarily, you need to visit Google Search Console's official web page.
*So, you visit the web page of Google Search Console (GSC)
Now, click on Add property and repeat the procedure given above. Ensure you are using the correct version of your site before adding it to GSC. Furthermore, ensure different versions of subdomains to add more accounts.
Suppose you already have added your site to Google Analytics, then it must automatically connect. So, when it is successfully connected, visit the property. Now you have successfully added your website to the Google search console. But you have to go through some other ways to verify your website by Google.
Different methods to verify the website
There are two main methods of website verification that help Google and marketers to add their sites to the Google search console. The first is the Root Domain verification method, and the second is Specific URL Prefix. In this article, you will acknowledge how you can verify your site through these methods.
Root Domain verification – it needs DNS access and authorizes to view metrics on overall domain properties such as http or non-http, subdomains, etc.
Specific URL prefix – it will track a particular version of your account and authorizes access to numerous verification approaches such as Google Analytics, HTML tag, etc.
Root Domain Verification
This is the premium method of verification of a site property with the assistance of your DNS on the Google search console. Now, access the domain provider, and get the pop-up of the text string from the instructions. Then add it as a txt record within the Domain and save the DNS with it.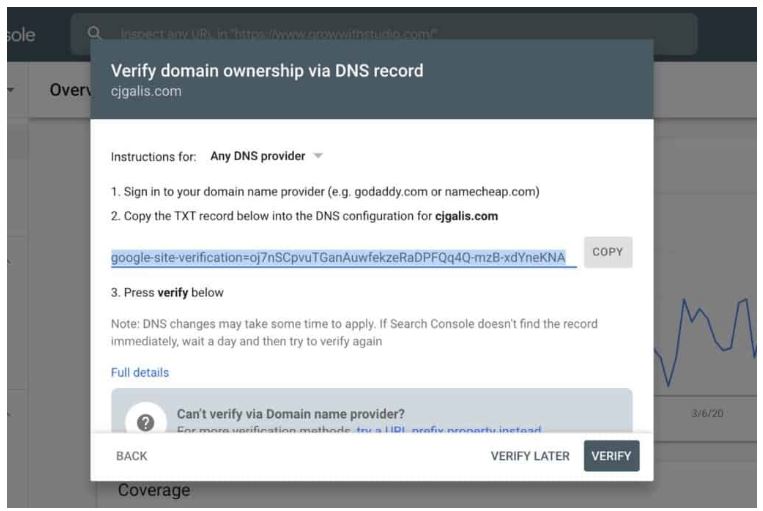 Now, click on verify button. You can do this with the help of various DNS providers, such as
Adding a TXT record to GoDaddy
Adding a TXT record to Domain.com
Adding a TXT record to HostGator
Adding a TXT record to Google Domains
Adding a TXT record to Namecheap
Adding a TXT record to DreamHost
Adding a TXT record to Hover
Adding a TXT record to BlueHost
Now, the Google search console will provide a verification process through your login details based on your Domain registrar. So, verify your website with the GSC and log in to your Domain provider. There are several DNS providers exist that can access your account and verify it with GSC.
GoDaddy.com
Ionos.fr
Name.com
Ionos.com
Ionos.de
Gandi.net
Internet.bs
Ionos.co.uk
Ionos.es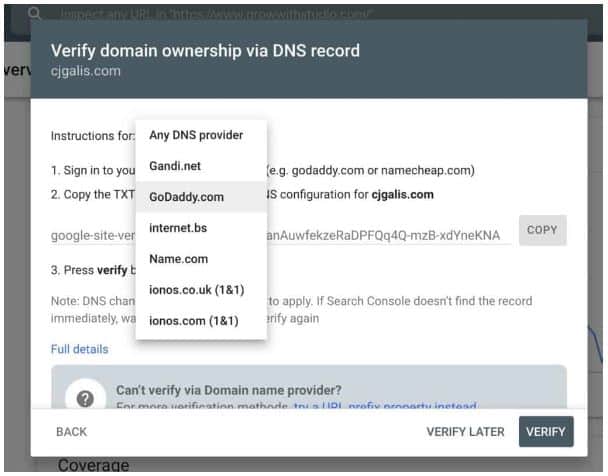 Verification through Site Prefix
However, if you do not have DNS access (which is considered the third party case in terms of marketing), you can still add your site with a particular site prefix. In addition, verify account ownership through given approaches and sites.
DNS provider
HTML file
Google Tag Manager
HTML Meta tag
Existing Google Analytics account
These sites will help you tell Google that you are the website property owner. Then Google will authorize you to view information present on the website. Besides this, prior to verification through prefix, ensure a good setup of your site. Ensure you are redirecting to your subdomain primary version, no matter whether your website is non-www or www. In addition, ensure your site is appropriately configured with https as opposed to http, and your SSL is placed. However, these things are mainly completed through your DNS or hosting provider.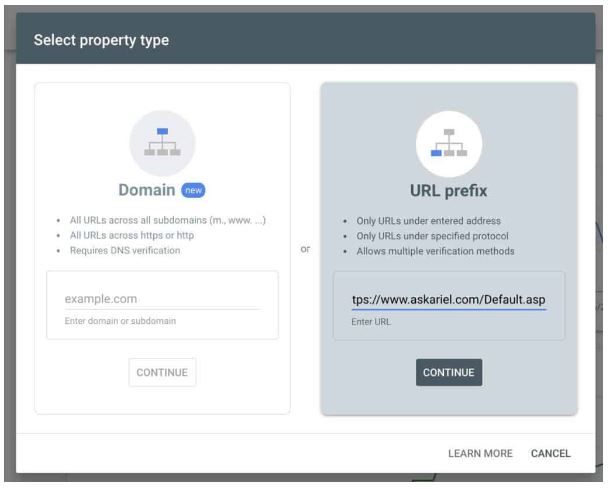 But there are some defaults in this process that you need to consider before verification. For instance, the Google search console perhaps does not take the information appropriately if you verify through a single prefix and change this setting later to the default setting. But if you have http and https verified URLs, you can notice inconsistencies in the information that GSC represents. Once your verification process is completed, copy the URL and insert it into the prefix column available in the verification section. Then click on the continue button.
Directly, you can verify your URL in various ways. However, use an HTML tag or Google Analytics to verify your site on GSC if you are a third-party owner. Besides this, if you an agency, you need to connect to the Google Analytics account. These methods are easy to use as they only get complex with different approaches. For instance, a third-party owner Google tag manager, adding HTML files, and accessing the DSN provider can be complex.
Adding an HTML Meta tag
It is a simple process, and any owner can access this by verifying their site with an HTML Meta tag. So, when you get into the verification process, the Google search console will provide you with an HTML Meta tag. The HTML Meta tag would look like this.
<meta name="google-site-verification" content="oj7nSCpvuTGanAuwfekzeRaDPFQq4Q-mzB-xdYneKNA" />
Copy this HTML string and insert that code in the <head> tags. Click on the save button to save the file. Furthermore, this process will not change anything on your website from information to set. Now, visit the Google search console window and click on the verify button. The page will crawl your website and view the Meta tag present in it. Once the GSC finds the Meta tag, you are all set up. Moreover, if you have a long cache on the site, primarily clear or flush it out and verify.
Verification with Google Analytics
You can use Google Analytics for verification of your website on the Google search console. However, if you are going through the verification process, you are already connected to Google Analytics. But if you are not connected, then go to the Google Analytics verification and click on the verify button. In this case, GSC will view all accounts connected to Google Analytics and look for email addresses. Once the email address is verified, GSC will provide you ownership tag of your website.
Verifying with Google tag manager
This process is similar to the verification process of Google Analytics. As you have to go to Google tag manager and click on the verify button. The process will go on. Once you get the authorization from the Google tag manager, GSC will verify your ownership of your data and website. Besides this, Google tag manager is a complex process in comparison to Google Analytics. And so, most website owners usually do not have it implemented or set up appropriately. However, it is the best approach for premium benefits and paid marketing specialists. In addition, marketers that use tag managers are more likely to use different platforms with one site.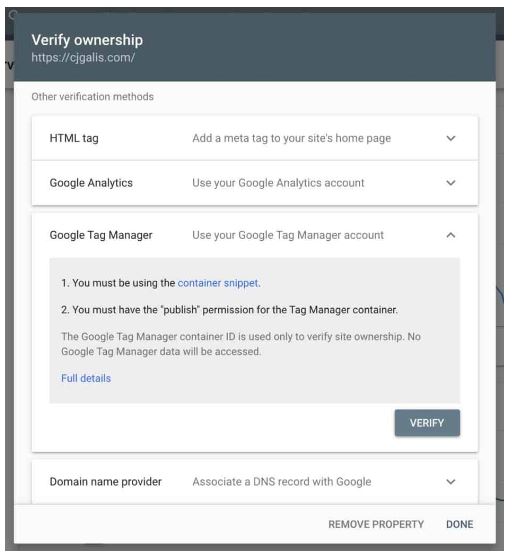 Furthermore, once you have completed your verification with Google tag manager, click on the verify button. Now, Google will see your information and authorize your accessibility accordingly.
Adding an HTML file to the website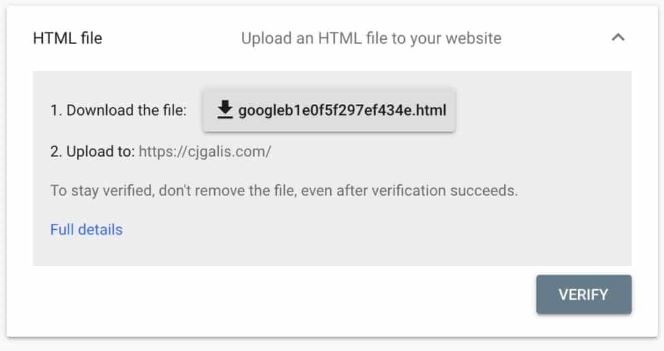 A website owner can verify their ownership by uploading an HTML file to the root domain directory. Google also authorizes this alternative to the website owners. However, in comparison to other verification methods, this method is quite simple. It only needs access to the website directory via an FTP. So, when you install the HTML file, you can access your root directory. Now you are eligible to upload your file here. However, you can only verify only when the file is uploaded appropriately by adding the HTML file name at the end of the domain directory. Now, go back to the Google search console window and click on the verify button. Your verification of the website through adding an HTML file was successful.
Verifying DNS
As described above in this article, the DNS verification process will follow the same procedure. You can include an option for URL prefix as it will entitle you to verify one URL—no matter whether it opposes the URL versions and all subdomains related to the site. Moreover, if you want to understand this process, continue reading.
Use DNS txt Record Verification.
In the DNS, the txt is a record resource that shares information about the Domain to different servers. Google uses this method to verify the ownership of websites effectively.
Determine your txt record
Select Domain name provider, which you can see in the dropdown list. But in a case you don't find your domain provider name, go to the "other" option. Now you will get the verification txt record, which will require verification in the immediate next segment.
Access to the Domain host account
Now, you require a login into your Domain hosting account. Perform this process in the new window. By doing this, you will be able to add your text. Then, your domain provider will receive explicit instructions. Now the page that automatically will identify your txt record will also read your advance setting, name server, DNS management, and control panel. Once you have completed this entire process, go to the Google search console. Now repeat the procedure and click on the verify button.
Summary
In this article, you learned How to Verify a Website in Google Search Console. The essential expertise of website verification in GSC has massive significance in growing the internet site ranking. In addition, they'll additionally uplift the boom of your enterprise. However, you may lose clients with useless virtual advertising techniques and search engine optimization techniques without a clean and robust approach. If you do not recognize the importance of the Google search console, you can now no longer be capable of providing services and products for customer want and need.
You can also additionally pick out an internet advertising organization to position your enterprise before your competition. Many competitions surround you within the market. But you have to make your mark. In this case, you want professional help developed for each situation you face. To survive in the aggressive marketplace segment, you will need a digital marketing agency. If you need to accumulate extra data on How to Verify a Website in Google Search Console, you may touch the specialists of the SkySeoTech team.
Solve your queries related to Digital Marketing Strategies, taking hints from the SkySeoTech team. Our marketplace specialists will assist you in solving all of your problems. Kindly touch us at the websites given below.