You need to construct an e-commerce website if you want to explore an idea in context of a business. An e-commerce website gives you that platform to quickly sell your products and services to the customers who loves to do online shopping. It became prominent in the business strategy, and it acts as a strong reactant in economic development. The e-commerce platforms seem economical and user-friendly, allowing you to create an e-commerce business website. An E-commerce platform act as a vital marketing tool from the business perspective as by doing SEO, and you can enhance the visibility on the search engine.
It can also shoot up the reach as everyone is using the internet, and people can easily view the website, which helps enlarge the business. E-commerce websites help decrease the pressure of inflation and assist in cost savings, which is a big thing. Starting from the early start-ups to the well-established brands will benefit by having an online store for selling products.
The arrival of advanced technology allowed customers of any age group to shop conveniently. E-commerce platforms are as convenient for everyone as people don't need to go anywhere to buy goods of interest. People are satisfied with the online shopping method.
You can also enhance the brand by offering the best products and services to the customers as it helps to establish the trust factor. It's the best time to create an e-commerce business website. Let your business fly with Skyseotech through an e-commerce website, and increase your brand awareness.
Advantages of Building an E-commerce website to run Business
Here are some advantages of building an e-commerce website that you need to know. An E-commerce website will become an asset for your business due to its tremendous benefits. You must go ahead with this alternative as it is beneficial from the business perspective.
It can get Global Revelation
When you build an e-commerce website, you can expand your business which a store can't do this type of thing for your business. Everyone wants to grow their business, so you don't want to restrain it in a store. You also want to maximize your business idea globally. Once reach a global audience, your e-commerce website will give liberty to your customers to do shopping from their home comfort with just some clicks.
Open all the Time
When your business is open 24hour seven, it will help lift the business because of this facility. Your e-commerce website acts as a sales representative who works for you 24/7 at a lower cost. But when it comes to the store, you can't give this type of facility to your customers as store timings are fixed for every day. The presence of an online store can quickly solve this type of problem as the transactions can be done at any point in time. It does not require any staff to carry out the activities, saving money and time, which is a tremendous asset for your business.
Establish a Cost-effective E-Commerce Platform
In setting up the E-commerce platform, you don't require any significant investments to run the business. Your little investment is enough to start an e-commerce website. When you run a physical store, you need a lot of money and the staff. But in an e-commerce platform, all you need is a unique idea, good quality of products, and a well-designed website.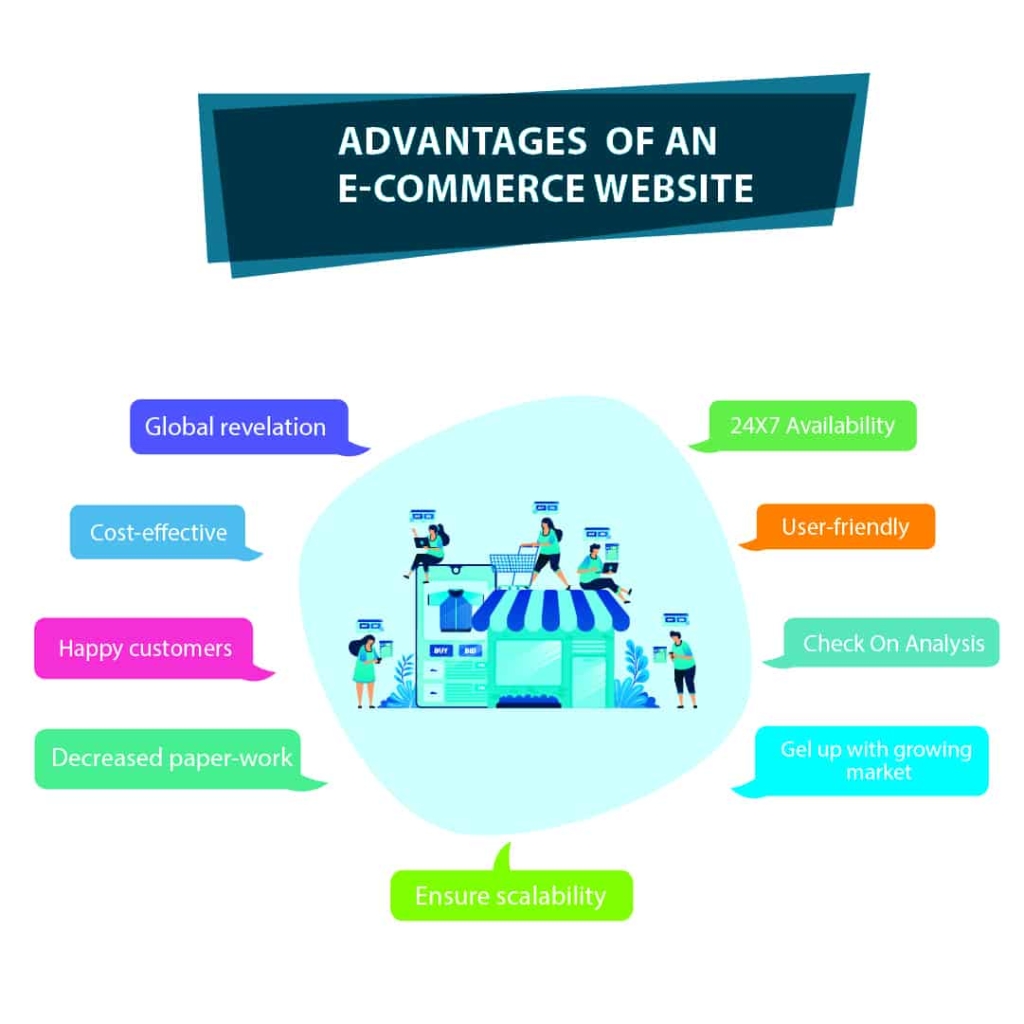 User-Friendly Platform
You can furnish your website with some of the best features to attract more customers and raise your sales. Your e-commerce website will help the customers reach out to you more efficiently within a fraction of seconds in just one click. All you can do is plan for a workable buying options area for feedback. All these options create a good impression towards the customers, and they will become loyal customers to your shop as this is one of the best things you can expect.
Customers should be Happy
It would be best if you came with some discount offer ideas, which will persuade the customers towards you. Please go ahead with feedback as reviews and ratings for your product or service. Product Reviews and ratings play a considerable role in driving sales, as customers find your product getting them value for money. When the customers' testimonials are displayed on the e-commerce website, they will positively impact the users, which will help gain more customers.
Check on Analytics
You need to check on the analytics while using an online selling system by analyzing all the data stored and finding out the efficacy of sales, observing customer behavior, acknowledging marketing campaigns, customer engagements, and many other things.
Decrease use of Paper
An E-commerce website idea can decrease paper use as almost everything is digital in today's world. This type of practice increases environment-friendly activities, which is a good thing to save our natural resources. Apart from this, you are also free from the piles of papers as you have the database stored.
Build Communication with Targeted Buyer
If you want to communicate with the customers, you need to get your email addresses and other information. First, create a registration page on your e-commerce platform after collect the necessary information. Then, after acquiring essential understanding, you can send your customers a message you want to share and convince them to buy the products from the online store. This type of connection will be beneficial. You can take help from the social media platforms for retargeting and remarketing your products to reach a broader audience by using social media.
It Helps to Gel Up with Fast-Growing Market
In today's time, individuals prefer online shopping as it is the most suitable option. Launching an E-commerce website lets you know the inclination of people's shopping, and you can quickly gel up with the fast-growing market.
Ensures Scalability
By taking help from e-commerce development services, you can build a good e-commerce presence for your business. You can effortlessly take care of the demands in the field of the customer's market needs. It seems to be very easy to start your business by creating an e-commerce website at affordable prices as compared to running a physical store for running the business. By having the right business plan, you can earn a good amount of income and have the better Return on Investment (ROI)
Checklist to Construct an E-commerce website for Business
These are the five steps which will help you to build an E-commerce website for the business. By following these steps you will got to know the information in detail which will be helpful as it will help to boost the business. From the start to end there are so many relevant things which needs to be highlighted.
Step 1: Choose a name to get the domain
The initial step to construct an e-commerce website begins with selecting a name and getting the domain. Your domain is known as the URL, which is your web address. It may regard as the home of the e-commerce website over the internet, where the interested shoppers can visit your website. You need to select a good domain name that will help you to boost your branding. It would be great to choose the business and domain name that is inter-related to each other what you will sell. Placing the focused keywords into the domain name and content of your website will help the customers know what you sell up-front, and it will also increase the website's visibility on Google. You can purchase the domain through Go Daddy, the Blue host where you need to enter the business name in any of these websites.
Step 2: Select E-commerce Platform
The E-commerce platform refers to where the website stays online which is. There are some free e-commerce platforms, but they will contain limited features only. You can also add e-commerce features to a popular website or opt for dedicated e-commerce platforms to support unlimited growth.
Best e-commerce platform options
Dedicated e-commerce platforms
Dedicated e-commerce platforms seem the easiest way to launch a fully-featured e-commerce website. These solutions help to deliver secure payments, shipping labels, and multichannel sales support. Some of the dedicated e-commerce platforms are Big Commerce, Shopify, etc.
Website builders with e-commerce features
Popular website builders like Wix, Square space, etc., offer e-commerce functionality which you can use to construct your e-commerce website as they will help you. If you run your website on any of these platforms, you can add the online sales features by simply switching to an e-commerce plan.
E-commerce Plugins for WordPress
WordPress holds many e-commerce websites, as Word Press holds low-cost e-commerce options. In addition, you can add an online store to your WordPress website by using plugins like Woo Commerce, Big Commerce, etc.
Free E-commerce Website Platforms
Free e-commerce platforms allow your businesses to sell a few products online without upfront or ongoing costs. These platforms will provide you with fewer features, and some of the plugins are Freewebstore, Ecwid, etc.
Step 3: Plan and Construct an E-commerce Website
It's time to start with your e-commerce website. For this, you'll need to gather the following elements and information:
You need to create the logo by taking help from the Canva. However, your branded images will convey the story.
Product Photos, Descriptions, and Data
Product information is crucial in e-commerce websites.
Some pointers that will help-
Good photos of the product
Product videos
Create authentic videos of your product
Detailed product description
Product options
Product pricing
Item size and weight
Inventory
Maintain your connection with potential buyers by creating an About Us Page on your E-commerce website. Creating an About Us page will help the user get you more, and you can add some images to make it more attractive.
Pages of Customer service
When the customers are happy and satisfied with your products, they can quickly come again to buy the products. Key elements here include:
Shipping rates and times: You need to mention shipping turn-around the rates for your products.
Returns and exchanges: You need to state who will pay for return shipping.
Privacy policy: Include a privacy policy page for your E-commerce website.
Blogging is the best medium to create unique content that will enhance the ranking on Google. Therefore, blog posts constitute a significant part of the overall marketing strategy.
The menu present in the e-commerce website will help shoppers navigate to the blogs and website content.
Step 4: Set up for payment procedure, tax, shipping, and marketing tools
It all depends on the e-commerce platform when you construct an e-commerce website to achieve this task. Dedicated platforms like BigCommerce and Shopify will provide you with options like calculating the tax, processing the payment, and tools for marketing which will help a lot in this process. But others need to take help from outside sources.
Tax table setup and payment processing
Any e-commerce website contains all "plug-and-play integration" mentioned above with payment services including Stripe, Square, Paypal, etc. Besides this, Shopify Corporation works with its payment services like Shopify Payments. People must click some buttons to access payment processing, set up their accounts, and connect with the services.
After effectively establishing the payment processor, you will configure the sales tax rates collected from buyers. Every e-commerce website assists in sales tax collection and allows you to choose and purchase items of your choice.
E-commerce facilitates you to connect with the direct payment gateway along with a merchant account. Apart from this, plug-and-play and built-in services are considered the economic and most straightforward alternatives for start-ups and small-sized businesses.
You need to combine the shipping software with the e-commerce platform. Through shipping, you can connect with the orders of shipping software where you can select carriers and methods of shipping, print labels, and notify customers when their orders are to ship. Big Commerce Shopify offers in-built shipping, but other e-commerce platforms need to connect with a third party for this type of work. After this, you can create shipping rates.
Create the Social Media Setup
Some e-commerce websites offer marketing tools that help businesses increase brand awareness. In some cases, you need some paid plugins as these types of plugins will connect your product directly to your social media accounts which will help in the promotion.
Step 5: Launch your e-commerce website
The last step to construct your e-commerce website is to launch your website. It takes time for search engines to find and index your new e-commerce website. You can also verify your new e-commerce website in Google's Search Console.
Summary
An E-commerce website idea is more than just a space to sell products and services. Constructing an e-commerce website is not a difficult task to perform, so you should never be worried about building it.
A website is a place where you can promote your services, increase brand awareness, convert casual buyers into potential customers, and target a new audience. Selecting an appropriate e-commerce platform to market products and services can assist you in giving a headstart in creating an e-commerce success.
The steps mentioned above will help you build an e-commerce website, but you may require expert advice or assistance to construct it. If you want to collect extra information about creating an e-commerce website, you can contact the experts of the SkySeoTech team.
Solve your queries associated with the e-commerce website or platform by taking suggestions from SkySeoTech. Our market experts will help you resolve all your problems. Kindly contact us on the websites given below.